Jonathan Urmy
|
Photo Gallery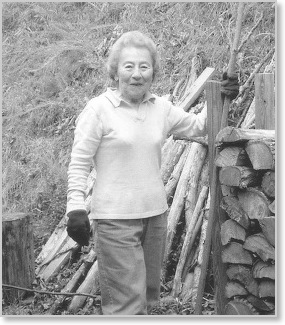 I was born on St. Patrick's Day in 1922, on a farm near Garrison, Iowa, in Benton County.
My growing-up was influenced by the Great Depression and by the self-reliance and work ethic of my mother's parents — themselves descendants of pioneers who never quite made it into the 20th Century. Little Heathens details the remarkable challenges and the inestimable rewards of living a rural life where children were expected to accept responsibilities beyond the ordinary.
From early on, I was eager to be self-supporting and independent. The summer I turned thirteen I became the companion, cook and caretaker of a retired missionary. Later I worked as a hired girl on two local farms. After my high school graduation, I earned an Elementary Teacher's Certificate from Iowa State Teacher's College at Cedar Falls. However, instead of accepting a teaching position in Iowa, I jumped at an opportunity to move to New York as a governess in Yonkers.
In 1942, I joined the United States Coast Guard Women's Reserve. I was sent for radio training to Miami University at Oxford, Ohio and on graduation I served at the headquarters of the 5th Naval District in Norfolk, Virginia. This is where I met and married fellow radio operator Harry Kalish.
Thanks to the G. I. Bill, we both furthered our education at and graduated from the State University of Iowa (photo). We have two sons, two daughters-in-law (par excellence), four grandchildren and one great-granddaughter. I am a Professor Emeritus of English retired from Suffolk County Community College on Long Island. I have taught at the State University of Iowa at Iowa City, the State University of Missouri at Columbia, and at Adelphi University in Garden City, NY.
I live in a retirement community in Cupertino, California.